Help Us
ADHENO welcomes your support for any of the current listed projects. You may send your donation through one of the following means: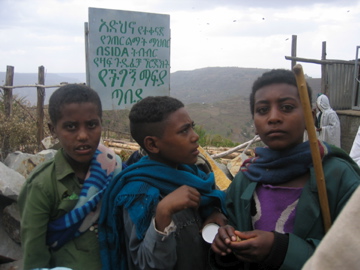 1) Via Dir Biyabir (www.dirbiyabir.org)
Dir Biyabir is a US registered non-profit 501(C)(3) organization that supports ADHENO activities by mobilizing funds from foundations, corporations, and individuals in the US, Europe, and Canada. Your donation to Dir Biyabir is US tax deductible and 100% of donations to Dir Biyabir for ADHENO projects will be sent directly to ADHENO. Please make your check out to Dir Biyabir, indicate on your check the ADHENO project you would like to support and mail your check to:
Dir Biyabir P.O.Box 391566 Mountain View, CA 94039-1566
You may also send a donation via PayPal on the DirBiyabir website
2) Wire funds directly to ADHENO bank account in Ethiopia using the following information
ADHENO Integrated Rural Development Association
Phone - 00251 116 635080
Bank - Commercial Bank of Ethiopia, Meskel Square Branch
SWIFT Bank Identifier Code(BIC) - CBETETAA
Account Number - 0170933512400
Please follow up on your wire by contacting ADHENO at ADHENO@ethionet.et or by phone at 251 116 635080. Please include your email and the amount wired so a confirmation can be sent to you once your donation is received.
3) Via private initiative Prof. DI Dr. Friederike Turnowsky (www.way2help.at)
Phone - 0043 6642122451
Bank - Unicredit Bank Austria
SWIFT Bank Identifier Code(BIC) - BKAUATWW
IBAN: AT35 1200 0100 1986 8974 "Äthiopien"